IntelliChristian! Science
Newsletter
Come study science with us, because this universe was created to be amazing!
Three Galaxies and a Comet
Diffuse starlight and dark nebulae along the southern Milky Way arc over the horizon and sprawl diagonally through this gorgeous nightscape. The breath-taking mosaic spans a wide 100 degrees, with the rugged terrain of the Patagonia, Argentina region in the foreground. Along with the insider's view of our own galaxy, the image features our outside perspective on two irregular satellite galaxies - the Large and Small Magellanic Clouds. The scene also captures the broad tail and bright coma of Comet McNaught, the Great Comet of 2007.
Image Credit: Miloslav\nDruckmullerBrno University of Technology
Blue Comet PanSTARRS
Discovered with the PanSTARRS telescope on September 7, 2016, this Comet PanSTARRS, C/2016 R2, is presently about 24 light minutes (3 AU) from the Sun, sweeping through planet Earth's skies across the background of stars in the constellation Taurus. Its beautiful and complex ion tail is a remarkable shade of blue. Still relatively far from the Sun, the comet's already well-developed ion tail is very impressive. Emission from unusually abundant ionized carbon monoxide (CO+) atoms fluorescing in the increasing sunlight is largely responsible for the pretty blue tint. This color image of the blue comet is a combination of data taken from two different telescopes during the night of January 7. Located at the apex of the V-shaped Hyades star cluster in Taurus, bright star Gamma Tauri is responsible for the glow at the bottom left corner of the frame.
The visitor is hypothesized to have come from our Solar System's distant Oort Cloud. The Oort Cloud, however, has never been seen by anybody, so we'll say it came from the outer edges of our Solar System.
Image Credit: Damian Peach
RCW 114: A Dragon's Heart in Ara
Large and dramatically shaped, this cosmic cloud spans nearly 7 degrees or 14 full moons across planet Earth's sky toward the southern constellation Ara. Difficult to image, the filamentary apparition is cataloged as RCW 114 and traced in this telescopic mosaic by the telltale reddish emission of ionized hydrogen atoms. In fact, RCW 114 has been recognized as a supernova remnant. Its extensive filaments of emission are produced as the still expanding shockwave from the death explosion of a massive star sweeps up the surrounding interstellar medium. Consistent estimates place its distance at over 600 light-years, indicating a diameter of about 100 light-years or so. A neutron star or pulsar has recently been identified as the collapsed remains of the stellar core.
Image Credit: Andrew Campbell
Bright Planetary Nebula NGC 7027 from Hubble
It is one of the brightest planetary nebulae on the sky -- what should it be named? First discovered in 1878, nebula NGC 7027 can be seen toward the constellation of the Swan (Cygnus) with a standard backyard telescope. Partly because it appears there as only an indistinct spot, it is rarely referred to with a moniker. When imaged with the Earth-orbiting Hubble Space Telescope, however, great details are revealed. Studying Hubble images of NGC 7027 have led to the understanding that it is a planetary nebula that began expanding about 600 years ago, and that the cloud of gas and dust is unusually massive as it appears to contain about three times the mass of our Sun. Pictured here in assigned colors, the resolved, layered, and dust-laced features of NGC 7027 might remind sky enthusiasts of a familiar icon that could be the basis for an informal name. A leading previous suggestion was the Pillow Nebula, but please feel free to make new suggestions.
Featured Articles
How to make Mars hab
Things humans would have to achieve to colonize Mars and make it habitable.
Why stars cannot for
It has been believed for some time that stars can form from a collapsing nebula. But is it actually possible? Let's look at processes that woul
How long did it take
According to currently accepted models, light travels at the same speed in all parts of the universe, and it has always traveled at this speed. Dis
Is the asteroid belt
There has been a theory proposed a while back that hypothesized an asteroid belt to be the remains of an exploded planet. I've he
Random Pick
A September Morning Sky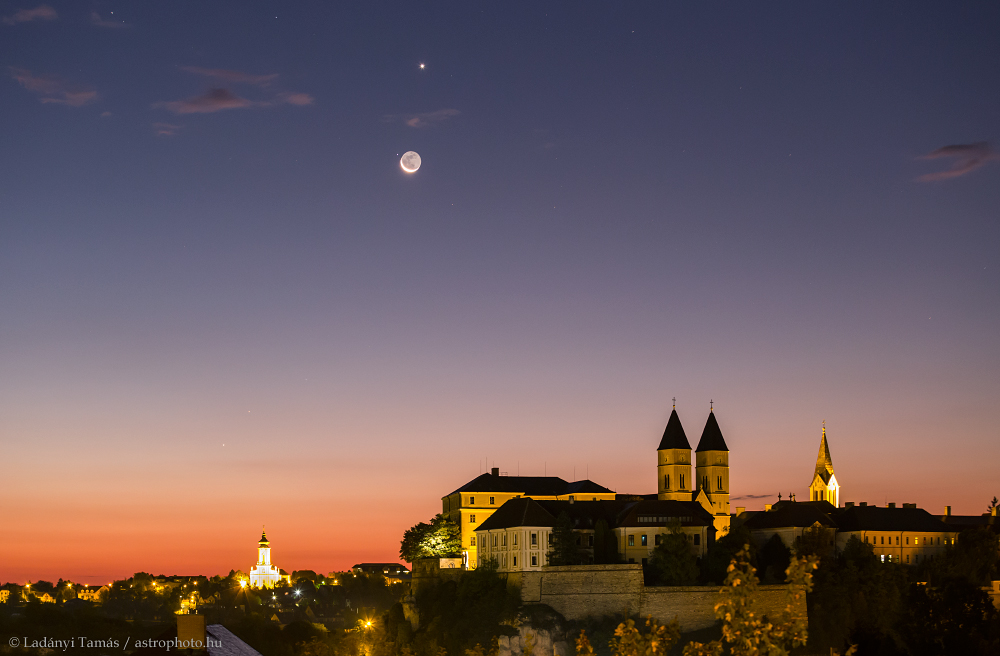 The Moon, three planets, and a bright star gathered near the ecliptic plane in the September 18 morning sky over Veszprem Castle, Hungary. In this twilight skyscape, Mercury and Mars still shine close to the eastern horizon, soon to disappear in the glare of the Sun. Regulus, alpha star of the constellation Leo, is the bright point next to a waning crescent Moon, with brilliant Venus near the top of the frame. The beautiful morning conjunction of Moon, planets, and bright star could generally be followed by early morning risers all around planet Earth. But remarkably, the Moon also occulted, or passed directly in front of, Regulus and each of the three planets within 24 hours, all on September 18 UT. Visible from different locations, timing and watching the lunar occultations was much more difficult though, and mostly required viewing in daytime skies.
Image Credit: Tamas Ladanyi
Video Gallery

GW170817: A Spectacular Multi-Radiation Merger Event Detected

Orbiting Jupiter

Cassiopeia A: An Exploded Star

Earth and Moon
Sign in for full access.