IntelliChristian! Science
Newsletter
The Pleiades Deep and Dusty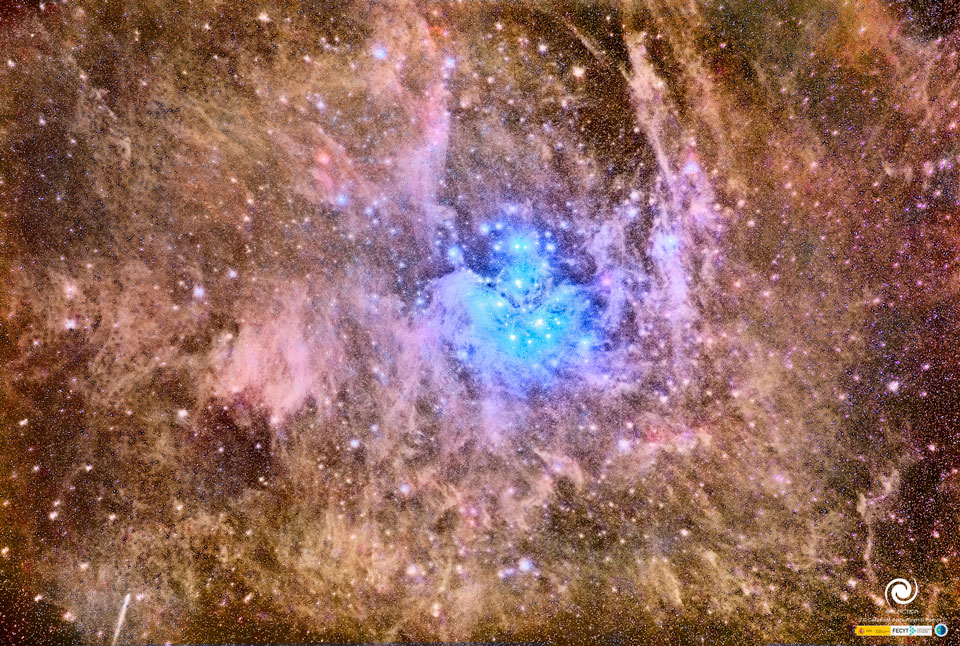 The well-known Pleiades star cluster is slowly destroying part of a passing cloud of gas and dust. The Pleiades is the brightest open cluster of stars on Earth's sky and can be seen from almost any northerly location with the unaided eye. Pressure from the stars' light significantly repels the dust in the surrounding blue reflection nebula, with smaller dust particles being repelled more strongly. A short-term result is that parts of the dust cloud have become filamentary and stratified. The featured deep image also captured Comet C/2015 ER61 (PanSTARRS) on the lower left.
Image Credit: Juan Carlos CasadoTWANEarth & StarsFECYT
A Colourful Moon
The Moon is normally seen in subtle shades of grey. But small, measurable color differences have been greatly exaggerated in this mosaic of high-resolution images captured near the Moon's full phase, to construct a multicolored, central moonscape. The different colors are recognized to correspond to real differences in the mineral makeup of the lunar surface. Blue hues reveal titanium rich areas while more orange and purple colors show regions relatively poor in titanium and iron. The intriguing Sea of Vapors, or Mare Vaporum, is below center in the frame with the sweeping arc of the lunar Montes Apenninus (Apennine Mountains) above it. The dark floor of 83 kilometer diameter Archimedes crater within the Sea of Rains, or Mare Imbrium, is toward the top left. Near the gap at the top of the Apennine's arc is the Apollo 15 landing site. Calibrated by rock samples returned by the Apollo missions, similar multicolor images from spacecraft have been used to explore the Moon's global surface composition.
Image Credit: Alain Paillou
Williamina Fleming's Triangular Wisp
Chaotic in appearance, these tangled filaments of shocked, glowing gas are spread across planet Earth's sky toward the constellation of Cygnus as part of the Veil Nebula. The Veil Nebula itself is a large supernova remnant, an expanding cloud born of the death explosion of a massive star. Light from the original supernova explosion likely reached Earth over 5,000 years ago. Blasted out in the cataclysmic event, the interstellar shock waves plow through space sweeping up and exciting interstellar material. The glowing filaments are really more like long ripples in a sheet seen almost edge on, remarkably well separated into the glow of ionized hydrogen atoms shown in red and oxygen in blue hues. Also known as the Cygnus Loop, the Veil Nebula now spans nearly 3 degrees or about 6 times the diameter of the full Moon. While that translates to over 70 light-years at its estimated distance of 1,500 light-years, this field of view spans less than one third that distance.
Image Credit: Sara Wager
Featured Articles
How to make Mars hab
Things humans would have to achieve to colonize Mars and make it habitable.
Why stars cannot for
It has been believed for some time that stars can form from a collapsing nebula. But is it actually possible? Let's look at processes that woul
How long did it take
According to currently accepted models, light travels at the same speed in all parts of the universe, and it has always traveled at this speed. Dis
Is the asteroid belt
There has been a theory proposed a while back that hypothesized an asteroid belt to be the remains of an exploded planet. I've he
Random Pick
What's a Globular Cluster?
Globular cluster is a spherical collection of stars that orbits a galaxy as a satellite. Globular clusters are very closely held by gravity, which gives them their spherical dense structures. Globular clusters are sometimes called with a shorter name, just globulars.
There are over 150 globular clusters in our home galaxy. Andromeda galaxy may have as much as 500 of them. Some giant elliptical galaxies, such as M87, may contain as many as 13,000 globular clusters. These clusters orbit their galaxies at a distance of up to 131,000 light-years. Almost every galaxy surveyed contain a system of globular clusters.
Sources:
http://en.wikipedia.org/wiki/Globular_cluster
Image source: NASA, http://nssdc.gsfc.nasa.gov/image/astro/hst_abell2218.jpg
Video Gallery

GW170817: A Spectacular Multi-Radiation Merger Event Detected

Orbiting Jupiter

Moon Shadow versus Sun Reflection

Pluto Flyover from New Horizons
Sign in for full access.