IntelliChristian! Science
Newsletter
Come study science with us, because this universe was created to be amazing!
Aardvark
The aardvark is a medium-sized mammal that lives in Africa. It is known for its burrowing and as an insectivore. Burrowing because he digs to create burrows in which to live and rear its young. An insectivore because he feeds on insects. It roams over most of the southern two-thirds of the African continent, avoiding areas that are mainly rocky.
Description
The aardvark looks vaguely like a pig, but It has an arched back and is sparsely covered with coarse hairs. is pale yellowish-gray in color and often stained reddish-brown by soil. It's rear legs are longer than front legs. The front feet have four toes, while the rear feet have five toes. Each toe bears a large, robust nail which is somewhat flattened and shovel-like, and appears to be intermediate between a claw and a hoof.
An aardvark is a rather heavy and large animal. It typically weighs between 80 and 180 lbs. An aardvark's length is usually between 3.4 and 4.2 ft. And when its tail of up to 28 in is taken into account, it can reach lengths of 7 ft 3 in. At the shoulder, it is up to 2 ft tall.
The aardvark's coat is thin, and the animal's primary protection is its tough skin. Its hair is short on its head and tail; however its legs tend to have longer hair. The hair on the majority of its body is grouped in clusters of 3-4 hairs. Its tail is very thick at the base and gradually tapers.
When it digs, a lot of dirt can be flying around, so it's got heavy hair in its nostrils, to help protect it from all the debree flying around.
One of the most distinctive characteristics of the Tubulidentata is their teeth. The teeth have no enamel coating and are worn away and regrow continuously. The aardvark is also born with two conventional pointy teeth at the front of the jaw. When these fall out, they are not replaced. Adult aardvarks have only cheek teeth at the back of the jaw. These remaining teeth are peg-like and rootless and are of unique composition. The teeth consist of 14 upper and 12 lower jaw molars.
Digestive system
The aardvark's stomach has a muscular pyloric area that acts as a gizzard to grind swallowed food up, thereby rendering chewing unnecessary.
Habitat and range
Aardvarks are found in sub-Saharan Africa, where suitable habitat (savannas, grasslands, woodlands and bushland) and food (i.e., ants and termites) is available. They spend the daylight hours in dark underground burrows to avoid the heat of the day. The only major habitat that they are not present in is swamp forest, as the high water table precludes digging to a sufficient depth. They also avoid terrain rocky enough to cause problems with digging. They have been documented as high as 10,500 ft in Ethiopia. They are present throughout sub-Saharan Africa all the way to South Africa with few exceptions. These exceptions include the coastal areas of Namibia, Ivory Coast, and Ghana. They are not found in Madagascar.
Living quarters
Aside from digging out ants and termites, the aardvark also excavates burrows in which to live; of which they generally fall into three categories: burrows made while foraging, refuge and resting location, and permanent homes. Temporary sites are scattered around the home range and are used as refuges, while the main burrow is also used for breeding. Main burrows can be deep and extensive, have several entrances and can be as long as 43 ft. These burrows can be large enough for a man to enter. The aardvark changes the layout of its home burrow regularly, and periodically moves on and makes a new one. The old burrows are an important part of the African wildlife scene. As they are vacated, then they are inhabited by smaller animals like the African wild dog, ant-eating chat, Nycteris thebaica and warthogs. Other animals that use them are hares, mongooses, hyenas, owls, pythons, and lizards. Without these refuges many animals would die during wildfire season. Only mothers and young share burrows; however, the aardvark is known to live in small family groups or as a solitary creature.
Ecology and behavior
Aardvarks live for up to 23 years in captivity. Its keen hearing warns it of predators: lions, leopards, cheetahs, hunting dogs, hyenas, and pythons. Some humans also hunt aardvarks for meat. Aardvarks can dig fast or run in zigzag fashion to elude enemies, but if all else fails, they will strike with their claws, tail and shoulders, sometimes flipping onto their backs lying motionless except to lash out with all four feet. They are capable of causing substantial damage to unprotected areas of an attacker. They will also dig to escape as they can, when pressed, dig extremely quickly. Their thick skin also protects them to some extent.
Feeding
The aardvark is nocturnal and is a solitary creature that feeds almost exclusively on ants and termites. They avoid eating the African driver ant and red ants. The only fruit eaten by aardvarks is the aardvark cucumber. In fact, the cucumber and the aardvark have a symbiotic relationship as they eat the subterranean fruit, then defecate the seeds near their burrows, which then grow rapidly due to the loose soil and fertile nature of the area. The time spent in the intestine of the aardvark helps the fertility of the seed, and the fruit provides needed moisture for the aardvark. This is one of many examples of interdependence in nature, which requires all systems in nature to exist at the same time.
Due to their stringent diet requirements, they require a large range to survive. An aardvark emerges from its burrow in the late afternoon or shortly after sunset, and forages over a considerable home range encompassing 10 to 30 kilometres (6.2 to 18.6 mi). While foraging for food, the aardvark will keep its nose to the ground and its ears pointed forward, which indicates that both smell and hearing are involved in the search for food. They zig-zag as they forage and will usually not repeat a route for 5–8 days as they appear to allow time for the termite nests to recover before feeding on it again.
During a foraging period, they will stop and dig a "V" shaped trench with their forefeet and then sniff it profusely as a means to explore their location. When a concentration of ants or termites is detected, the aardvark digs into it with its powerful front legs, keeping its long ears upright to listen for predators, and takes up an astonishing number of insects with its long, sticky tongue—as many as 50,000 in one night have been recorded. Its claws enable it to dig through the extremely hard crust of a termite or ant mound quickly. When successful, the aardvark's long (up to 12 in) tongue licks up the insects; the termites' biting, or the ants' stinging attacks are rendered futile by the tough skin. After an aardvark visit at a termite mound, other animals will visit to pick up all the leftovers. Termite mounds alone don't provide enough food for the aardvark, so they look for termites that are on the move. When these insects move, they can form columns 33–130 ft long and these tend to provide easy pickings with little effort exerted by the aardvark. These columns are more common in areas of livestock or other hoofed animals.
On a nightly basis they tend to be more active during the first portion of the night time (20:00-00:00); however, they don't seem to prefer bright or dark nights over the other. During adverse weather or if disturbed they will retreat to their burrow systems. They cover between 1 and 3 mi per night; however, some studies have shown that they may traverse as far as 19 mi in a night.
Vocalization
The aardvark is a rather quiet animal. However, it does make soft grunting sounds as it forages and loud grunts as it makes for its tunnel entrance. It makes a bleating sound if frightened. When it is threatened it will make for one of its burrows. If one is not close it will dig a new one rapidly. This new one will be short and require the aardvark to back out when the coast is clear.
Movement
The aardvark is known to be a good swimmer and has been witnessed successfully swimming in strong currents. It can dig a yard of tunnel in about five minutes, but otherwise moves fairly slowly.
When leaving the burrow at night, they pause at the entrance for about ten minutes, sniffing and listening. After this period of watchfulness, it will bound out and within seconds it will be 33 ft away. It will then pause, prick its ears, twisting its head to listen, then jump and move off to start foraging.
If attacked in the tunnel, it will escape by digging out of the tunnel thereby placing the fresh fill between it and its predator, or if it decides to fight it will roll onto its back, and attack with its claws. The aardvark has been known to sleep in a recently excavated ant nest, which also serves as protection from its predators.
References:
https://en.wikipedia.org/wiki/Aardvark
Image by MontageMan
This content is licensed under Creative Commons License
Why fire ants are dangerous and what makes them so powerful?
Behavior
A typical fire ant colony produces large mounds in open areas, and feeds mostly on young plants and seeds. Fire ants often attack small animals and can kill them. Unlike many other ants, which bite and then spray acid on the wound, fire ants bite only to get a grip and then sting (from the abdomen) and inject a toxic alkaloid venom called solenopsin, a compound from the class of piperidines. For humans, this is a painful sting, a sensation similar to what one feels when burned by fire (hence the name) and the after effects of the sting can be deadly to sensitive people. Fire ants are more aggressive than most native species and so have pushed many species away from their local habitat. One such species that Solenopsis ants parasitically take advantage of are bees, such as Euglossa imperialis, a non-social orchid bee species, from which the ants would enter the cells from below the nest and rob the cell's contents. These ants are renowned for their ability to survive extreme conditions. They do not hibernate, but can survive cold conditions, although this is costly to fire ant populations as observed during several winters in Tennessee, where 80 to 90% of colonies died due to several consecutive days of extremely low temperatures.
Invasive species
Although most fire ant species do not bother people and are not invasive, Solenopsis invicta, known in the United States as the red imported fire ant (or RIFA) is an invasive pest in many areas of the world, notably the United States, Australia, China and Taiwan. The RIFA was believed to have been accidentally introduced to these countries via shipping crates, particularly with Australia when they were first found in Brisbane in 2001. These ants have now since been spotted in Sydney for the first time. They were believed to be in the Philippines, but they are most likely to be misidentified for Solenopsis geminata ants.
In the US the FDA estimates that more than US$5 billion is spent annually on medical treatment, damage, and control in RIFA-infested areas. Furthermore, the ants cause approximately $750 million in damage annually to agricultural assets, including veterinarian bills and livestock loss, as well as crop loss. Over 40 million people live in RIFA-infested areas in the southeastern United States. About 60% of people living in fire ant-infested areas are stung each year. RIFA are currently found mainly in subtropical southeastern USA states including Florida, Georgia, South Carolina, Louisiana, Mississippi, Alabama, and parts of North Carolina, Virginia, Tennessee, Arkansas, Texas, Oklahoma, New Mexico, and California.
Since September 2004 Taiwan has been seriously affected by the red fire ant. The US, Taiwan and Australia all have ongoing national programs to control or eradicate the species, but, except for Australia, none have been especially effective. In Australia, there is an intensive program costing A$175 million, although the fire ant had remained despite efforts. By July 2013 multiple sites west of Brisbane were confirmed, including the Lockyer Valley, Muirlea and Goodna. According to a study published in 2009, it only took seventy years for the lizards in parts of the United States to adapt to the ant's presence – they now have longer legs and new behaviors that aid them in escaping from the danger.
Symptoms and treatment for fire ant sting
The venom of fire ants is composed of alkaloids derived from piperidine (see Solenopsis saevissima). Some people are allergic to the venom, and as with many allergies, may experience anaphylaxis, which requires emergency treatment. Management of an emergency visit due to anaphylaxis is recommended with the use of adrenaline. The sting swells into a bump, which can cause much pain and irritation, especially when several stings are in the same place. The bump often forms into a white pustule, which can become infected if scratched, but if left alone will usually flatten within a few days. The pustules are obtrusive and uncomfortable while active and, if they become infected, can cause scarring.
First aid for fire ant stings includes external treatments and oral medicines. There are also many home remedies of varying efficacy, including immediate application of urine or aloe vera gel, the latter of which is also often included in over-the-counter creams that also include medically tested and verified treatments. External, topical treatments include the anesthetic benzocaine, the antihistamine diphenhydramine, and the corticosteroid hydrocortisone. Antihistamines or topical corticosteroids may help reduce the itching and will generally benefit local sting reactions. Oral medicine include antihistamines. Severe allergic reactions to fire ant stings, including severe chest pain, nausea, severe sweating, loss of breath, serious swelling, and slurred speech, can be fatal if not treated.
Appearance of fire ants
The bodies of mature fire ants, like the bodies of all typical mature insects, are divided into three sections: the head, the thorax, and the abdomen, with three pairs of legs and a pair of antennae. Fire ants of those species invasive in the United States can be distinguished from other ants locally present by their copper brown head and body with a darker abdomen. The worker ants are blackish to reddish and their size varies from 2 to 6 mm (0.079 to 0.236 in). In an established nest these different sizes of ants all are present at the same time.
Solenopsis spp. ants can be identified by three body features—a pedicel with two nodes, an unarmed propodeum, and antennae with 10 segments plus a two-segmented club. Many ants bite, and formicine ants can cause irritation by spraying formic acid; myrmecine ants like fire ants have a dedicated venom-injecting sting, which injects an alkaloid venom, as well as mandibles for biting.
Roles
Queen
Fire ant queens, the reproductive females in their colony, are generally the largest. Their primary function is reproduction; fire ant queens may live up to 7 years and can produce up to 1,600 eggs per day, and colonies will have as many as 250,000 workers. The estimated potential life span is around 5.83 to 6.77 years. Young, virgin fire ant queens have wings (as do male fire ants), but they rip them off after mating.
Males (drones)
Males mate with the queen. They die soon after mating.
Other roles
There are other types of roles in an ant colony like the workers and the soldier ants. The soldier ants are known for their larger and more powerful mandibles while the worker takes care of regular tasks (the main tasks in a colony are caring for the eggs/larvae/pupae, cleaning the nest, and foraging for food). However, Solenopsis daguerrei colonies contain no workers, as they are considered social parasites.
Sources: https://en.wikipedia.org/wiki/Fire_ant
NGC 7635: The Bubble Nebula Expanding
It's the bubble versus the cloud. NGC 7635, the Bubble Nebula, is being pushed out by the stellar wind of massive star BD+602522, visible in blue toward the right, inside the nebula. Next door, though, lives a giant molecular cloud, visible to the far right in red. At this place in space, an irresistible force meets an immovable object in an interesting way. The cloud is able to contain the expansion of the bubble gas, but gets blasted by the hot radiation from the bubble's central star. The radiation heats up dense regions of the molecular cloud causing it to glow. The Bubble Nebula, pictured here is about 10 light-years across and part of a much larger complex of stars and shells. The Bubble Nebula can be seen with a small telescope towards the constellation of the Queen of Aethiopia (Cassiopeia).
Venus and the Triply Ultraviolet Sun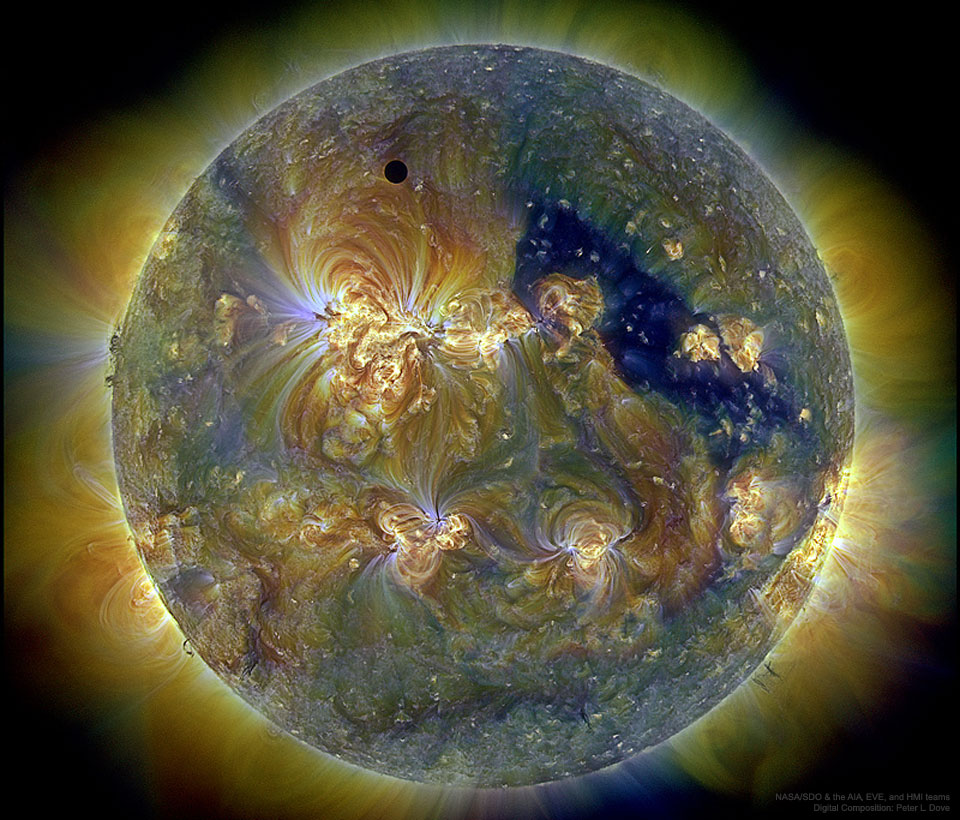 An unusual type of solar eclipse occurred in 2012. Usually it is the Earth's Moon that eclipses the Sun. That year, most unusually, the planet Venus took a turn. Like a solar eclipse by the Moon, the phase of Venus became a continually thinner crescent as Venus became increasingly better aligned with the Sun. Eventually the alignment became perfect and the phase of Venus dropped to zero. The dark spot of Venus crossed our parent star. The situation could technically be labeled a Venusian annular eclipse with an extraordinarily large ring of fire. Pictured here during the occultation, the Sun was imaged in three colors of ultraviolet light by the Earth-orbiting Solar Dynamics Observatory, with the dark region toward the right corresponding to a coronal hole. Hours later, as Venus continued in its orbit, a slight crescent phase appeared again. The next Venusian transit across the Sun will occur in 2117.
Featured Articles
How to make Mars hab
Things humans would have to achieve to colonize Mars and make it habitable.
Why stars cannot for
It has been believed for some time that stars can form from a collapsing nebula. But is it actually possible? Let's look at processes that woul
How long did it take
According to currently accepted models, light travels at the same speed in all parts of the universe, and it has always traveled at this speed. Dis
Is the asteroid belt
There has been a theory proposed a while back that hypothesized an asteroid belt to be the remains of an exploded planet. I've he
Random Pick
A Sagittarius Triplet
These three bright nebulae are often featured on telescopic tours of the constellation Sagittarius and the crowded starfields of the central Milky Way. In fact, 18th century cosmic tourist Charles Messier cataloged two of them; M8, the large nebula above and left of center, and colorful M20 near the bottom of the frame. The third emission region includes NGC 6559, right of M8 and separated from the larger nebula by a dark dust lane. They are about five thousand light-years or so distant. Over a hundred light-years across, the expansive M8 is also known as the Lagoon Nebula. M20's popular moniker is the Trifid. Glowing hydrogen gas creates the dominant red color of the emission nebulae. In striking contrast, blue hues in the Trifid are due to dust reflected starlight. The colorful composite skyscape was recorded with two different telescopes to capture a widefield image of the area and individual close-ups at higher resolution.
Image Credit: Josep Drudis
Video Gallery

GW170817: A Spectacular Multi-Radiation Merger Event Detected

Orbiting Jupiter

Cassiopeia A: An Exploded Star

Earth and Moon
Sign in for full access.